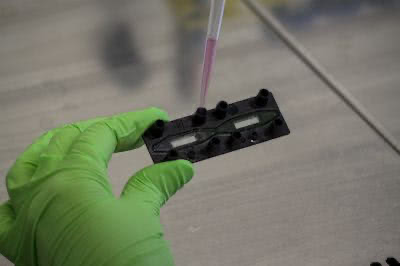 Dynamic42 GmbH receives seed financing
Dynamic42 GmbH has taken an important step towards a successful future. The first seed financing in the six-figure range was closed in early summer 2019. The founding team is looking forward to a dynamic and exciting company build-up.
The bm-t beteiligungsmanagement thüringen gmbh (bm|t), which participates via the Thuringian Start-up Fund (TSF), was won as an investor. The two managing directors of Dynamic42 GmbH, Dr. Knut Rennert and Martin Raasch, agree that "this investment will significantly help us to structurally advance the development of the company and at the same time it will give us new, greater room for manoeuvre. We are very pleased to have been able to convince bm|t to follow this exciting path with us and to stand by our side as a partner. We thank them for the trust they have placed in our company!"
Dynamic42 GmbH was founded in spring 2018 and has since been based in Jena. The founding team has developed a microfluidic chip system that can be used to cultivate human cells and tissues under near-body conditions. "This not only involves setting body temperature and supplying nutrients via special culture media, as has been established in cell biology research for a very long time. We offer the possibility of exposing cells to additional mechanical stimuli such as pressure and shear through mimicked blood flow. Furthermore, a three-dimensional cell and tissue arrangement with integrated defence cells in the chip is possible. Both components reflect the so-called microenvironment in the human body much better in the multicellular structure and thus allow the body-near replication of cell interactions and functions," says Martin Raasch of Dynamic42 GmbH. With this concept, the founding team has so far succeeded in establishing organ models of the human liver, intestine and lungs.
"It all started originally with the idea of building simple blood vessel tissues and cultivating them under body-like conditions, especially in interaction with immune cells. Both components continue to be an important companion to our models, as they enable the interconnection of organs in a way that mimics the body and represent important mediators in disease processes (especially immune cells). We only became more complex with our first complete organ model – the liver. It represents a pivotal point in the interaction with drugs. Human tissue models that are close to the body are in demand for the development of new drugs and therapies. This should enable better research into the modes of action, side effects and potential toxicity than is possible with two-dimensional cell culture and animal models alone. In this way, we want to contribute to improving the data quality in preclinical studies, to reducing side effects and increasing drug safety, as well as to saving on animal experiments in the long term," says Dr. Knut Rennert. "Especially through the anatomically correct arrangement of human cells and the integration of functional immune system cells in combination with sensor technology for online vitality and functionality determination, Dynamic42 GmbH offers its customers a high added value and will establish itself in the rapidly growing as well as dynamic organ-on-chip market," Stefan Jahn, Investment Manager at bm|t, is convinced.
bm-t beteiligungsmanagement thüringen gmbh (bm|t), headquartered in Erfurt, is a subsidiary of the Thüringer Aufbaubank and the leading address for investments in Thuringia. bm|t currently manages eight funds with a total volume of around EUR 320 million, which invest in innovative companies in almost all sectors and in all phases of corporate development – both in the start-up and growth phases or in corporate succession situations.
Dynamic42 GmbH was founded on 12 March 2018 and is a spin-off from the Integrated Research and Treatment Centre Sepsis and Sepsis Consequences (Center for Sepsis Control and Care, CSCC) of the University Hospital Jena. The company is currently based in the BioInstruments Centre on the Beutenberg in Jena. Dynamic42 GmbH markets and develops human microphysiological systems (MPS) / organ-on-chip models with integrated immune system components for research and testing of pharmaceutical products, novel therapies such as nanoparticles, chemical and food additives.v
We are excited to announce that Noreen Schuck has joined us at the beginning of October to support our lab team.
Read More