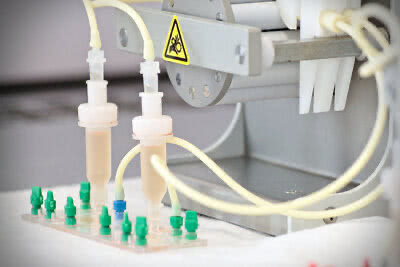 XXI Thuringian Innovation Award – Online Voting
Give us your vote! The online voting for the audience award at this year's Thuringian Innovation Award is now open. Dynamic42 GmbH is taking part in the 21st edition of the traditional, state-wide competition with its liver sinusoid model in the category "Light and Life". From 19 October to 2 November, all finalists can still vote for the public prize. This is sponsored by PricewaterhouseCoopers GmbH.
The jury assessments in the five categories "Tradition & Future", "Industry & Material", "Digital & Media", "Light & Life" and "Special Award for Young Companies" have already been decided. The winners of all prizes will be announced at an evening event on 14. November in the Congress Hall Weimar. Interested parties can register here. The Thuringian Innovation Award is one of the most highly endowed state innovation awards in Germany. Prize money totalling € 100,000 will be awarded.
Until then, it's all about collecting votes over the next two weeks. We call on all interested parties, partners, supporters and friends to participate in the online voting and to share their opinions.
We are delighted to announce that Dr. Juliane Fischer has joined our team and will from now on heading all Marketing efforts at Dynamic42.
Read More