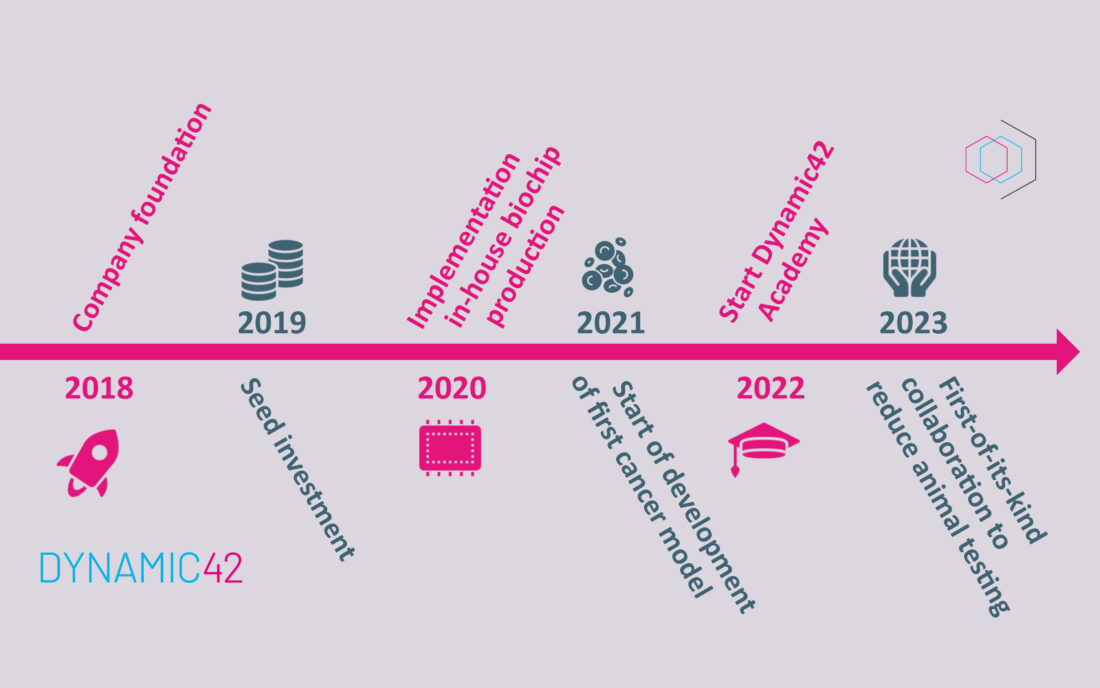 5 years of Dynamic42: From milestone to milestone
Dynamic42 GmbH is celebrating its fifth anniversary this spring. The last few years have been characterised by continuous growth, professionalisation and forward-looking innovations. So, we have quickly grown into a young company established in the biotech sector. We look back at the milestones we have reached so far and give an outlook on future plans.
You can also read the back story, how our founding team got to know each other and how the idea for Dynamic42 arose in our blog post "How it started".
As a spin-off of the Jena University Hospital, Dynamic42 was founded in March 2018 as a contract research company addressing the organ-on-chip market. We started without venture capital, but instead with our first development contract and equity that we have raised in several regional and national start up competitions. At that time, our co-managing director Dr. Knut Rennert was the only permanent employee. Even then, we used our broad expertise from various research projects to develop in vitro test systems that could be used to investigate the effect of potential active pharmaceutical ingredients and chemicals on the human organism.
In the following year, we successfully completed a small seed investment in a six-figure range. This enabled us to move into our first own premises at the BioInstrumenteZentrum in Jena. We started to set up our biochip production, which helped us to significantly improve the quality and informative value of the organ-on-a-chip process. Additionally, we built up a small core team consisting of lab head, finance and controlling as well as IT administration. In our laboratories, we first focused on the improvement of our liver model for pharmaceutical applications as part of an internal case study.
In 2020, we closed a big seed investment based on the achievements of our first small seed phase. This enabled us to expand our facilities in the BioInstrumenteZentrum. Scientists, technical assistants, an engineer, a quality management representative and a patent researcher joined our team. The expanded capacities allowed us to continue and expand the first case studies from the previous research with advanced liver models on chip. Other highlights of the year have been selling our first in-house produced biochips to pharmaceutical industry as well as the development of new chip designs. We also continued joint developments on a lung model and a lung infection model together with Jena University Hospital, resulting in an important publication on influenza A & S. aureus infection related pneumonia.
The further development of infection models of the lung also characterised 2021 with the investigation of models with SARS-CoV-2 by our partners. In addition, we launched an extensive quality and certification offensive targeting professionalisation with several patent applications and streamlining of internal processes. As further milestones in this context, we achieved ISO9001:2015 certification for our biochip production and fee-for-service portfolio and we successfully registered Dynamic42 as a trademark at the German Patent and Trademark Office. Other milestones in 2021 have been the start for the development of our first cancer model and steadily increasing sales and customer interactions. Not to be forgotten, is the expansion of our laboratory and science team and the appointment of our co-managing director Dr. Martin Raasch as a new board member of the European Organ-on-Chip Society.
In 2022, we expanded our educational services. Previously, we supported scientists exclusively with external training courses at customers' premises in the correct application of organ-on-chip technology. To complement this offering, we launched the Dynamic42 Academy, where we share our expertise in an intensive course lasting several days. We also worked on strategic topics in the area of sales, company growth and team development with valuable external support. In addition, we initiated and prepared two big pilot studies with two well-known pharma companies that we made public in spring 2023.
We started 2023 with good news. Namely, with the announcement of participation in a research collaboration unique in the consumer health industry with esqLABS, the Placenta Lab of Jena University Hospital and Bayer's Consumer Health Division. The aim of this pilot project is to develop a platform that will reduce or replace animal testing using "organ-on-chip" (OoC) technology and interactive computational software. On top, we could announce that we were chosen within the iDEA-iTECH award program from Sanofi to jointly work on implementing OoC in drug metabolism and pharmaco-kinetic (DMPK) studies. Not only are we committed to a progressive, animal and environmentally friendly future in these two projects, but we are also participating in the Thuringia Sustainability Agreement.
Our Dynamic42 Team is looking forward to another eventful year in which we will be able to announce some great cooperation projects and more of our own developments. We continue to see far-reaching potential in the idea that animal testing can be reduced or even partly replaced in basic research and pharmaceutical development according to the 3Rs principle (Reduce, Refine, Replace). The market for organ-on-a-chip systems, which is becoming increasingly relevant, and with Dynamic42 as part of it, cannot only enable safer testing of pharmaceuticals and substances in the future, but it can also further help to generate new insights into disease processes, therapy options and associated mode of actions as well as approaches to individualised medicine.
More interesting articles:
In this article, we will discuss common issues observed when working with biochips made of PDMS, most commonly used alternatives, and desired properties for biochip materials. But most importantly, we will present alternative biochips showing low adsorptions rates but also unique biocompatibility for high grade drug screening.
Read More