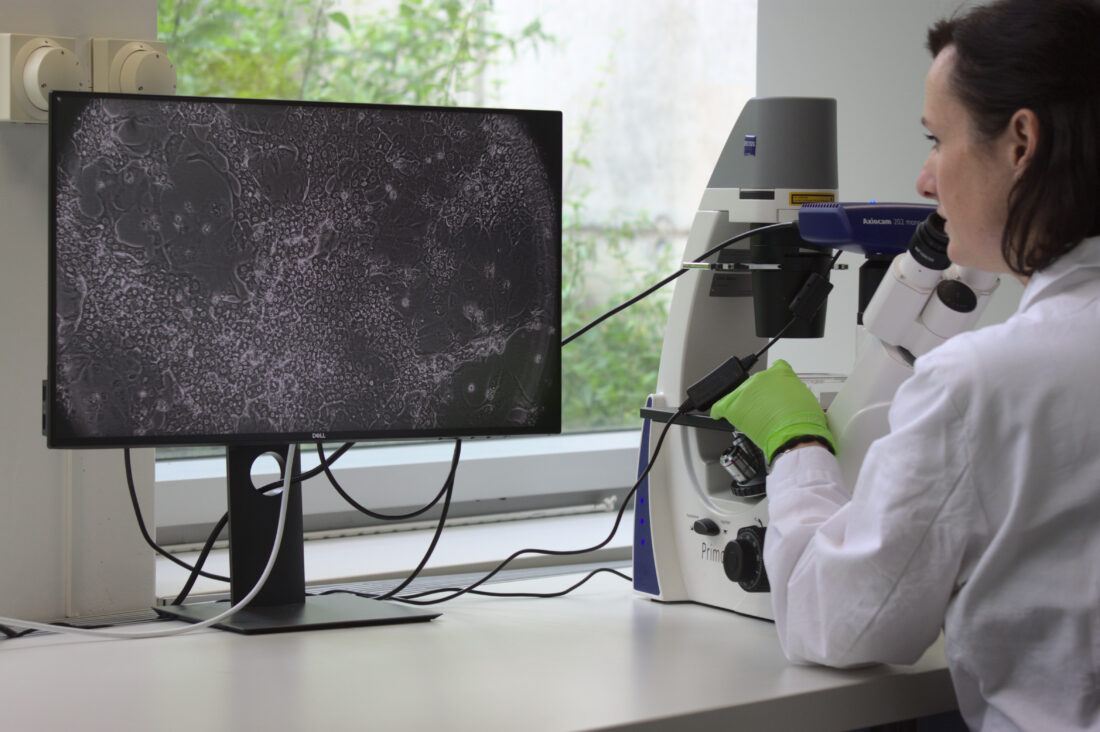 19. September 2023
In
Blog
Practicing contemporary science: Organ-on-Chip
Organ-on-chip technology (OoC technology) has enormous potential to shape the future of drug discovery and development. Simulating the physiology of human organs and tissues on a biotech chip reproduces the key functions and responses of these in a "mini-version." This innovative approach models the behavior of cells in vitro and thus reproduces molecular processes of the human body (in vivo), e.g., in drug testing, on a more reliable scale. 
Organ-on-chip – technology of the future
Organ-on-chip is the future of physiological, three-dimensional cell culture and drug testing.
It is a sustainable alternative to streamline research, make drug development more efficient and cost-effective, and permanently reduce animal testing and side effects to humans. 
The advantages of organ-on-chip
Increasing biological relevanc

e
Three-dimensional tissue setups, multicellular models encompassing all relevant cell types, including the human immune system, and the application of biomechanical stimulation, such as perfusion and tissue deformation, improve cell responsiveness and the quality of scientific data.
Improved prediction and risk assessment
Working in a fully human setting with higher biological relevance and data quality and less animal-derived data will improve the prediction and risk assessment of new drugs before they enter human clinical trials. Better risk assessment will not only improve tolerability in humans, but also tremendously reduce the economic risk of trial termination.
Organ-on-chip technology has the potential to significantly and sustainably reduce animal testing in the future. In addition, where it is still indispensable, there is the possibility of replicating translational models – i.e., animal organ models – in order to additionally minimize the use of animals for these questions. 
Organ-on-chip is a highly flexible technology in many respects. Applications benefit from the diversity of materials, the technical-biological design options, and the combination with other cutting-edge technologies such as real-time sensing, microscopy, spectroscopy, and computational modeling. On the biological level, the scaling of cells and cell types as well as multiple possibilities to introduce microorganisms in direct interaction render organ-on-chip an extremely valuable tool for mechanistic studies.
Who is the Organ-On-Chip technology suitable for?
The Organ-on-Chip technology and our services are intended to benefit a wide range of users.
The platform helps companies in the biotech sector, as well as in the chemical, pharmaceutical and food industries, in the pre-clinical evaluation of all types of newly developed substances intended for use in humans. This covers a broad spectrum from small molecules and chemicals to nanomaterials and biologicals such as antibodies.
In addition, organ-on-chip technology and concepts are well suited to uncover fundamental scientific research questions. Academic scientists have the opportunity to incorporate organ-on-chip models into their research to investigate molecular mechanisms under biologically human-relevant conditions such as multicellular interaction, perfusion, pathogen-host interaction, and biomechanical stimulation.
Replicating human physiology in the laboratory
An intelligent basic tool for the laboratory
Our human body is constantly in motion, and so is every tissue, especially blood vessels, muscles, the lungs and the intestines. With organ-on-chip technology, it is possible to apply strain, stretch and stress to cells, which in turn affect cell behavior. This can be achieved via the application of flow or direct mechanical manipulation of tissue by deforming biochip components.
Our human cells sense these forces via the mechano-stimulatory complex – a crucial cellular sensing complex that influences various signaling pathways. This important "cellular tool" that significantly shapes human biology is completely neglected in standard in vitro approaches, including preclinical in vitro assays.
Simulating organ biology – from simple to complex 
Organ-on-chip technology offers tremendous flexibility and potential for customization specific to the scope and needs of a scientific study. Thanks to this advanced technology, we can better understand how the human body functions at the cellular level, providing important insights for medicine and pharmaceutical research.
Organ-on-chip:

Providing

a contemporary tool for modern drug

development
Organ-on-chip technology enables state-of-the-art research and treatment to make drugs and therapies more effective and less risky. Our process involves collecting human cells and integrating them into our biotech chips.
These keep the cells alive and allow testing of numerous drugs and substances directly on the target tissue. Secondary organs can also be examined, which is particularly important in the case of systemically applied active substances in order to exclude undesirable effects in other tissues (so-called off-target effects). The technology offers a realistic possibility to test active substances directly on human tissue without exposing patients to side effects. Research and treatments can thus be carried out faster, cheaper and with greater precision.
How organ-on-chip technology fights cancer
Cancer research as well as diagnostics benefit from OoC technology in many ways. Early detection of tumors as well as risk assessment inevitably require that individual cellular materials are examined, for example gastrointestinal cells, lung cells or skin cells. For the most accurate diagnostic image, the cells must survive in an environment similar to that found in the human body. Thanks to the OoC method, the cells can be examined in just such an environment.
Technology is also important in the planning and implementation of different treatments. Because tumor cells arise from the mutation and degeneration of human tissues, they differ from person to person – making it difficult to develop and apply generally effective therapies.
The OoC method can not only be used to test the exact effects of different therapies. More precise statements about the nature of the tumor also become tangible. How old the tumor is, whether it has metastasized or what caused the cancer are important pieces of information that can significantly increase the effectiveness of a treatment.
Fewer animal experiments – better controls
In addition to cancer research, OoC technology offers new possibilities in a variety of other fields. For example, the chips make it possible to conduct medical research without animal testing. This not only makes results more accurate, but also eliminates ethical and legal concerns.  
Research related to the release of new drugs can benefit from OoC as well. Drugs can be tested for side effects quickly, easily and accurately. In the development of new drugs, OoCs help determine the exact mode of action and precisely define the field of application. 
If you would like to learn more about our biotech chips or if you are interested in applying the chips in your research, please do not hesitate to contact us. Our experts will be happy to advise you on the possible applications of the chips.
More interesting articles:
Organ-on-Chip technology (OoC) has the potential to shape the future of drug research. It allows the simulation of human organs on a chip, enabling more reliable tests for drug development.
Read More