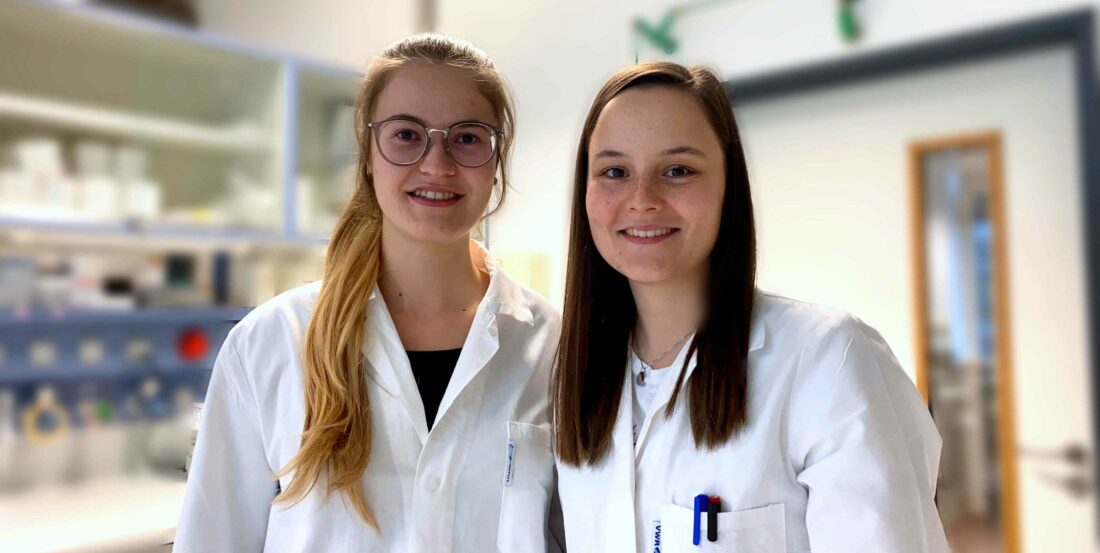 14. December 2022
In
Blog
The faces of Dynamic 42: Our Master's students
Science is our passion. That's why we invest in the next generation of scientists. We emerged from a university environment and therefore we are well aware of how important and advantageous the close cooperation between companies and young scientists is. Currently two master students from the Department of Pharmaceutical Biotechnology at the Ernst-Abbe University of Applied Sciences (EAH) are supporting and learning with us. Let's meet our Master's students Sophie and Daria:
Dynamic42 Master's students Sophie and Daria
Sophie Besser: Researching intestinal diseases
Sophie Besser is currently studying at EAH in Jena. In 2020 she already completed a Bachelor of Engineering in biotechnology there. Now she is aiming for a Master of Science in pharmaceutical biotechnology. Since April of this year, she has been researching with our team, in particular her supervisors Dr. Katja Graf and Tim Kaden, on the emulation of aninflammatory bowel disease (IBD) model. In this research project, a microphysiological intestinal model was leveraged as a platform to investigate the protective effects of probiotic lactic acid bacterium Lactobacillus rhamnosus GG on host tissue during inflammatory responses in IBD.
Sophie chose to work and research at Dynamic 42 because she wants to learn and improve practical skills and abilities in cell culture. She is convinced that biochip-based organ models will be essential e.g. for the future of medicine. That is why she is enthusiastically learning how to handle organ models and is eagerly absorbing the team's know-how.
"It is very valuable to be a part of research projects with an innovative technology that does not only manage to reduce animal testing, but further recapitulates the human anatomy and physiology, allowing more realistic disease modelling, underlying molecular mechanisms and potential therapy targets," Sophie explains.
Daria Geilen: Studying therapeutic antibodies
Daria Geilen is also studying at EAH Jena and successfully completed her Bachelor of Engineering in biotechnology. She is also currently studying for a Master's degree in pharmaceutical biotechnology and has been part of our team since April 2022. Together with her supervisors Anne-Kathrin Bothe and Dr. Martin Raasch from Dynamic 42, Daria is investigating immune-related side effects and the toxicity of therapeutic antibodies in microphysiological organ-on-chip models as part of her thesis. The focus of the research project is particularly on the investigation of such antibodies in the liver model.
During her Bachelor's internship, Daria worked mainly in microbiology. Therefore, she decided to take a different direction and broaden her knowledge in the Master's degree with the internship at Dynamic 42. Her interest lies in practicing general working techniques of cell culture and, in particular, having the opportunity to learn about the specific and less common handling of biochips.
Daria tells us how she got to be part of our team: "A very crucial point for me is that the organ-on-chip platform contributes to the reduction of animal experiments. Animal welfare has always been a personal concern of mine. In addition, I had already visited Dynamic 42 within my degree program as part of the module 'In-vitro diagnostics' and gained first insights. I already liked the young and open-minded team. After a few months in the company, I can say that I am very happy to be able to write my Master's thesis here."
More interesting articles:
Organ-on-Chip technology (OoC) has the potential to shape the future of drug research. It allows the simulation of human organs on a chip, enabling more reliable tests for drug development.
Read More