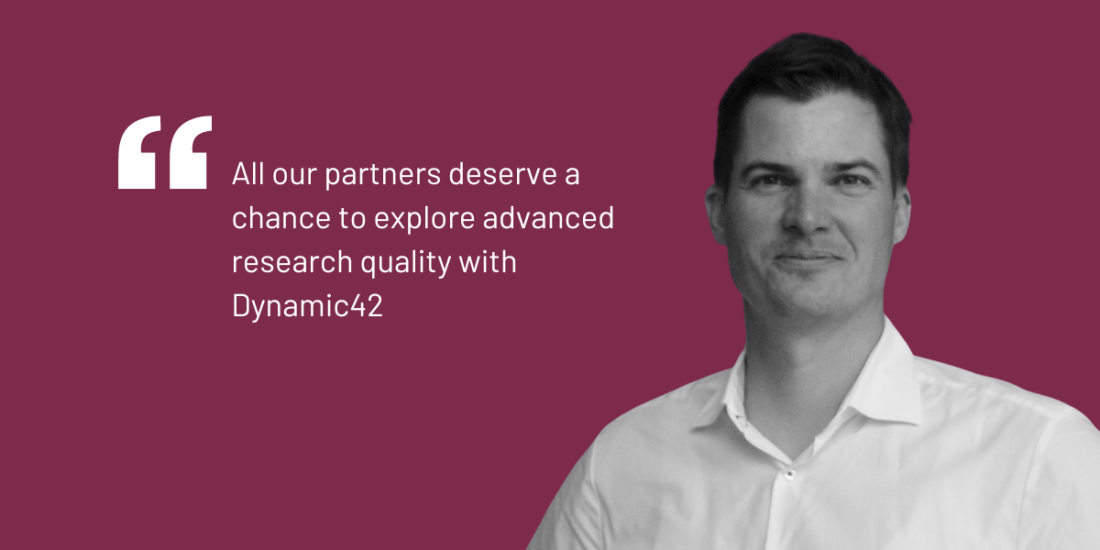 The faces of Dynamic42: Georg Machnik
As an expert in business development, Georg enriches our team at Dynamic42. With his creative approach and many years of experience in medical technology and project management, Georg is a valuable addition to our team. 
A significant milestone in Georg's professional career
Georg was born in Jena, Germany, where he studied economics at the Friedrich Schiller University later on. During this time, Georg quickly became familiar with the processes of communication, team leading and business development. After his successful graduation, his path led him to Karlsruhe. There he worked for two years as a project manager and took over the responsible management of a communication center with more than 100 employees.
Back home: Successful sales of biosynthetic materials

 
After Georg had expanded his practical skills, he returned back home. For almost six years, he was responsible for Managing sales at JeNaCell an Evonik company. There, he continued to build his project management skills by creating a network of distributors and customers. He further focused on promoting JeNaCell products in the area of skin care. The goal was to secure and monitor dermatological aftercare. 
Commitment to animal-free research: advanced cell culture experiments as an alternative to animal testing
Georg was looking for new challenges and decided to join us last year – and has been a valued member of the team ever since. His experience in project management has proved to be valuable in further developing our business and sales structures. 
In addition, his skill in medical technology provides him with important insights into our industry. With his expert knowledge and dedicated commitment, Georg is instrumental in advancing our vision of animal-free research.
"All our partners deserve a chance to explore advanced research quality with Dynamic42."
Georg's diverse interests: sharing precious moments with family, enjoying

music

and traveling the

world
When he is not scouting and tapping into new business areas for us, he is traveling and loves discovering other cultures and getting in touch with local people like Jordanians, Saudi Arabians or Moroccans. This open-minded attitude also distinguishes him in our team. 
More interesting articles:
In this article, we will discuss common issues observed when working with biochips made of PDMS, most commonly used alternatives, and desired properties for biochip materials. But most importantly, we will present alternative biochips showing low adsorptions rates but also unique biocompatibility for high grade drug screening.
Read More